When:
August 3, 2022 @ 11:00 am – 1:00 pm
2022-08-03T11:00:00-04:00
2022-08-03T13:00:00-04:00
Where:
Hybrid Meeting (at the Gathering Place and online)

Contact:
Heather Minors
(905)435-2500 ext.2314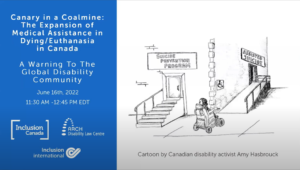 In June, Inclusion Canada joined disability partners Inclusion International and ARCH Disability Law Centre in hosting a side session at the 15th United Nations Conference of State Parties on the Convention for the Rights of Persons with Disabilities (COSP).
"Canary in a Coalmine: The Expansion of Medical Assistance in Dying (MAiD) in Canada," warned the world of Canada's discriminatory assisted dying legislation. The recent amendments to the law now permits people who are not terminally ill to be euthanized, provided that they have a disability or disabling medical condition. The Canadian government was criticized for making death a viable option before providing people with disabilities the supports and services necessary to ensure quality of life. (Inclusion Canada, 2022)
This was a very well attended event, including representatives from over a dozen countries, including Japan, Mexico, and New Zealand. It was one of the most well-attended side events in the history of COSP.
We'd like to invite any interested families to join us for a viewing of this webinar presentation on Wednesday, August 3, 2022 at 11:00 am. We will watch the presentation and that join in conversation afterwards. This will be a hybrid meeting – with a limited number of people at the Gathering Place (at our office), with others joining online via Zoom.
Inclusion Canada. (2022, June 17). Canadian Disability Organizations Host Event at United Nations