When:
August 12, 2020 @ 6:30 pm – 8:30 pm
2020-08-12T18:30:00-04:00
2020-08-12T20:30:00-04:00
Contact:
Erin O'Reilly
(905)436-2500 ext.2511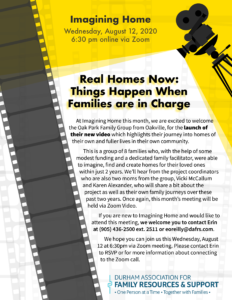 Thinking About Housing for a Loved One with a Disability?
Imagining Home is a group of like-minded people delving into finding and creating "home" for a loved one with a disability. This group has been meeting monthly for a number of years and is interested in discussing all things housing!
At Imagining Home this month, we are excited to welcome the Oak Park Family Group from Oakville, for the launch of their new video which highlights their journey into homes of their own and fuller lives in their own community. This is a group of 8 families who, with the help of some modest funding and a dedicated family facilitator, were able to imagine, find and create homes for their loved ones within just 2 years. We'll hear from the project coordinators who are also two moms from the group, Vicki McCallum and Karen Alexander, who will share a bit about the project as well as their own family journeys over these past two years. Once again, this month's meeting will be held via Zoom Video
Contact Erin for Zoom details!