When:
June 27, 2022 @ 5:30 pm – 8:00 pm
2022-06-27T17:30:00-04:00
2022-06-27T20:00:00-04:00
Where:
Hartrick House
120 Roberson Dr
Ajax, ON L1T 3Z6
Canada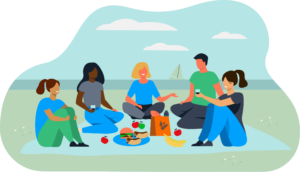 Our Annual General Meeting will take place later this month on Monday, June 27th. We are excited to hold this year's meeting in-person, and to be able to gather safely and chat face to face. We will be celebrating our community, and all the incredible work that has been done by the organization and alongside families.
We will be hosting this event in Ajax at Hartrick House, located at 120 Roberson Drive (near Church St N and Rossland Rd W). While the business portion of the meeting will take place within Hartrick House, it will be followed by a picnic-style gathering on the grounds outside of the venue. Some indoor space may remain available, but most of us will head outdoors to blankets and tables along with individually provided "picnic baskets". You will have the opportunity to choose your picnic meal when you register. We have many enticing options catered by local favourtie Butchie's!
This year's theme will center around the celebration of family groups and families coming together. We are working on a short video on the subject which we are excited to premiere that evening. We will eat, meet, chat and enjoy each other's company while we celebrate the significance of families coming together. We will have a dedicated board at the event to mention and acknowledge those who are not with us, where you can place a name or bring a photo.
The AGM provides an opportunity for families and community members alike to show their support for Durham Family Resources, hear from the Board of Directors, and connect with the staff team. It is also a great opportunity to meet other like-minded families, and gathering of families and allies to experience our AGM theme which is a celebration of family groups.