When:
June 23, 2021 @ 6:00 pm – 7:30 pm
2021-06-23T18:00:00-04:00
2021-06-23T19:30:00-04:00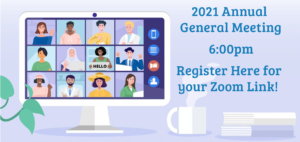 Durham Family Resources will be holding our Annual General Meeting on Wednesday, June 23, 2021. Like last year, we will be hosting this year's meeting online via Zoom! After a short business meeting agenda, we will take some time to think about recharging and rejuvenation. We all look for ways to find rest and renewal not only during the pandemic, but through the years. Sometimes we find ways to do so among our loved ones; sometimes we take short breaks for one another. We will look to DFR families  for a whole range of examples to inspire and remind us all to take a break. At the same time, we will see how full and meaningful lives often give each family member that needed space to learn, grow, and return with even more to offer.