Mar
21
Sat
One Day SRV – The Importance of Valued Social Roles

@ The Gathering Place
Mar 21 @ 8:30 am – 5:00 pm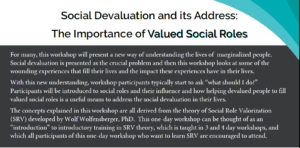 The much anticipated One Day SRV is here again!
Join us as as we listen to a new way of understanding the lives of marginalized people – delving into understanding social roles and their influence on people's lives.
This is a great workshop for anyone involved in the life of someone marginalized due to intellectual impairment, physical impairment, poverty, homelessness, age, and/or mental disorder. Whether you are a family member, friend, paid or unpaid supporter, advocate, teacher, board member, etc – all are welcome and encouraged.